Sunnet Beskerming Advisory Service
Beating the Hackers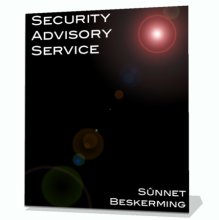 Buy Now!Get the competitive advantage over hackers with the S?nnet Beskerming Advisory Service. Delivering advanced Information Security threat and trend detection, notification, and mitigation content as it happens, the S?nnet Beskerming Advisory Service gives you a powerful tool in your Information Security arsenal.
Whether it is the release of a minor patch, or the discovery of an attack that threatens a tool that you are using, the S?nnet Beskerming Advisory Service provides you with timely, relevant, and accurate information about the real nature of what it is you are facing. Through advanced discovery capabilities, this service gives you hours, days, weeks, months, or even years of advanced notice before an issue affects you.
Delivered whenever an issue is detected and analysed (even if it is in the middle of the night, or on a public holiday), you can rest easy, knowing that S?nnet Beskerming's dedicated staff are busily hunting down and reporting on issues that affect you and your business.
What's It Going To Cost?
Costs are presented ex. GST for Australian and New Zealand clients, and are presented in USD for clients in the rest of the World.
Know More
23 June 2007