Patch Briefing
What's That On My System?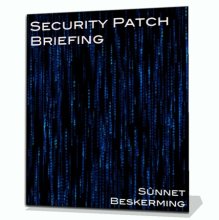 Buy Now!On the second Tuesday of every month, Microsoft release a suite of security patches for various versions of their Windows Operating System, along with important patches for critical Microsoft software (such as Office). Apple Computer release their security patches for OS X on an infrequent basis, but their content is just as important.
Unfortunately for many users, they are not aware of what exactly is inside the patches being provided, exactly how important it is to apply them, and what issues they might expect to face when they apply them (including loss of critical data).
S?nnet Beskerming has the solution. With every security patch suite release by the major Operating System vendors (Linux, AIX, and Solaris support will be available soon), you will receive a clearly written guide to exactly what each patch is fixing, whether it is replacing any previous patch, workarounds in case you can't install the patch right now, and any issues that are known to affect the patch (such as attacks by hackers). Accompanying this handout is a brief that can be delivered to non-technical management and staff, covering the key highlights for each patch and what you should expect to face when installing it.
This critical knowledge helps you create your own, easily read knowledge base that can aid in determining patch rollout for businesses and government agencies, and help end users understand just what is happening to their systems when the patches are automatically install.
Why not check out some of our earlier releases before you buy.
What's It Going To Cost?

Costs are presented ex. GST for Australian and New Zealand clients, and are presented in USD for clients in the rest of the World. Please click on the value / description to purchase an item.
* - Costs are per desktop and physical server.
Know More
26 June 2007